Dumpster Rentals for home, business or job site.
Our dumpsters are open top roll-off dumpsters with rear doors for easy loading. They are designed to meet the needs of both contractors, home owners and business. All our dumpsters are placed on wood planks to prevent any damage to the driveway or surface.
Remodeling your home? Preparing to move? Or just cleaning out the house, basement or attic and need to get rid of some junk? We have great rates on roll-off dumpster rentals, and will be able to deliver the container at your convenience.
10 YARD DUMPSTER
The smallest dumpster we rent. Used for small cleanouts and small projects around the house. For smaller load consider using our full service junk removal.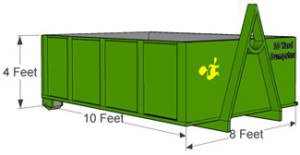 15 YARD DUMPSTER
15 yard dumpsters are good for remodeling projects such as kitchens, baths and new roofs. Commonly used for cleanouts when moving.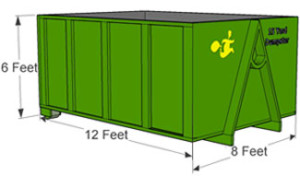 20 YARD DUMPSTER
The 20 yard dumpster is good for large cleanouts and remodeling projects. It is the most common dumpster we rent for both homeowners and contractors.